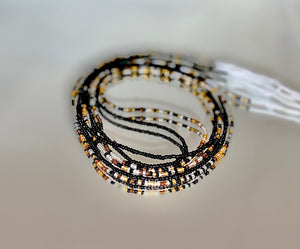 Waist beads are sold as a set 2/2
The beads are on a cotton thread. Waist beads are adjustable
They measure upto 50 inches long with a 10 inch adjustable thread.
How to wear custom waist beads?
Measure your waist depending on where exactly you want to tie them.They are usually tied above the hips and below the navel.

These waist beads are adjusted by removing excess beads before tying on the waist. Excess beads can be used to make an anklet following the same steps above.
Wear waist beads to track your weightloss journey. As your waist trims the beads will slowly far

identifying

 your

weight loss

 results!
Rock waist beads to compliment each outfit, bikini, ChicagoHiproll waist wrap, bracelet, anklet, necklace & more!
Color may slightly differ from image.
Wash with soap and warm water.
Waist beads are nonrefundable.